Past Award Recipients
2017
Regional Coordinators for Asteroidal Occultations
John Talbot, Steve Kerr, Eric Frappa,
Tsutomu Hayamizu, Brad Timerson
2016
2015
Gerhard Dangl
2014
2013
2012
2011
2010
2009
2008
2007
Gerhard Dangl - 2015 Award Recipient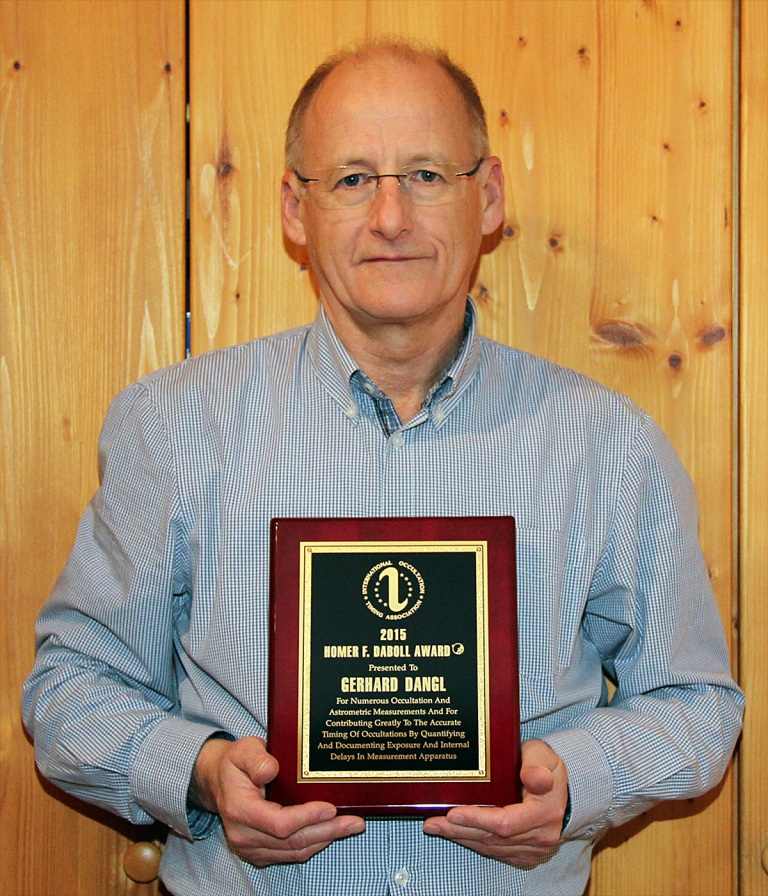 The 2015 Homer F. DaBoll award recipient is Gerhard Dangl of Austria
"for Numerous Occultation and Astrometric Measurements
and for Contributing Greatly to the Accurate Timing of Occultations by
Quantifying and Documenting Exposure and Internal Delays
in Measurement Apparatus."
Gerhard Dangl is a European astronomer who has contributed greatly to the precision timing of occultations. In his own right, Gerhard is an accomplished occultation astronomer, however, his contributions have transcended the day to day work and enhance our scientific credibility. Gerhard invented a device to test the optical and electronic characteristics of our occultation video cameras (EXposure Time Analyzer – EXTA). Until Gerhard's work, no one knew that integrating video cameras had a time delay. Since the publishing of his work, we now routinely publish occultation timings that are corrected for camera delays and VTI timing delays. A complete description of Gerhard's monumental work can be found at his website. IOTA Gerhard's work is used constantly in reviews and analyses of countless light curves and occultation timings.
- Comments by Tony George
From Gerhard:
"The news about the Homer F. DaBoll award for 2015 was a great and pleasant surprise for me. I would like to express my gratitude to the members of the award committee for this appreciation. I also want to mention that many of my measurements on all these cameras and VTI equipment would not have been possible without the great support from the owners of these devices. Therefore, I see this award to me also as an appreciation of the good team spirit of the observers and members of IOTA across the globe. This award is a great pleasure and as well a motivation for further activities in this fields of astronomy for me.
Heartfelt thanks and best greetings." - Gerhard Dangl